So after reading through some LJ posts and blog posts and just sort of sitting around pondering lolita in general, I think it would be awesome to start something called the "Lolita Spotlight." So many girls get posted to CGL or Loli Secret for no reason other than to be made fun of. SO I decided over the course of a week (or whenever I have time to look at daily lolita in general) I am going to collect a folder of pictures of lolitas from d_l posts that I find inspiring! I promise it's not going to be a slew of just "popular" lolitas! What I am focusing on here is the coordinate! Background and the quality of the photo are important too because even if an outfit is really amazing, if it was taken in poor light or if the photo itself is TINY then yeah..... going to be a pain to try and examine it.
**DISCLAIMER**
I have in no way shape or form contacted any of these girls about using their pics on my blog. SO that being said, if you're pic is on here, and you randomly surfed on, and you are NOT OK with your pic being used please just contact me or leave a comment and I will remove it ASAP! No questions asked! :) I know it's usually not a good idea to use peoples' pics without their permission first but people do it all the time on Tumblr so I don't see how a blog is any different. :/ I just figured it would be a positive way to spread lolita love and inspiration on the net. :D If you want to see more of a girl's coordinate, click her picture and it will link you to her daily lolita post. Then you can see her other outfits and maybe give her a comment? :)
So without further ado....click!
xsapphiradollx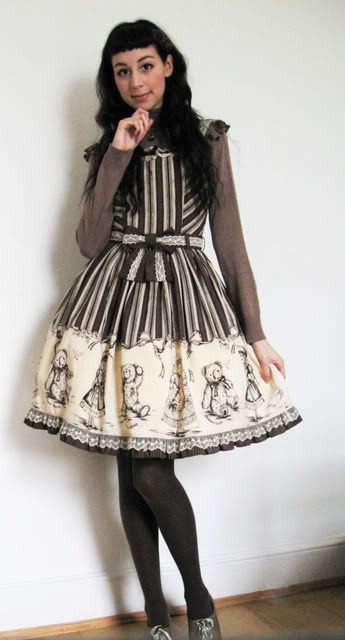 Style:

Classic Lolita


Why I like it:

She has done a wonderful job of coordinating all those shades of brown together in a very simple yet elegant classic coordinate. Her choice of plain tights allows the print on the bottom hem of her dress to do the talking so to speak! This is the kind of outfit I would love to wear out to a cute bakery with my friends. :)





taeyen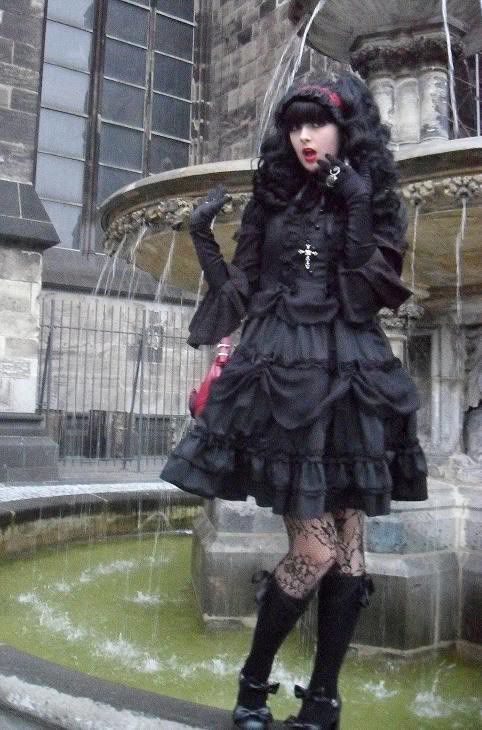 Style:

Gothic Lolita


Why I like it:

It's very simple in the way of colors but she did a great job of combining lots of different textures into her outfit. The lace on the tights, the ruffles on her skirt, the sleeves of her blouse, her wavy/curly hair. It all just flows together marvelously not to mention it's deliciously gawthic and she chose a lovely spot to take photos. :) I would love to wear this out to a haunted mansion with some friends for a Halloween meet up!





okami_loli_chan






Style:

Casualish Sweet/Classic Lolita


Why I like it:

I couldn't decide if her outfit was more sweet or more classic. I am pretty sure the dress is from BtSSB which IS a sweet brand but she subdues some of the sweetness by covering the lacy and ribbony bodice up with a black cardigan. Plain black socks/tights and sweet shoes. OK so I guess it IS more sweet! But anyway, that's not too important! What matters is she skillfully combined a BRIGHT color with black and for that I give her props. Black, white, and red. Very classy! I'd love to wear this on a walk around the city with friends. :D





krikri_chan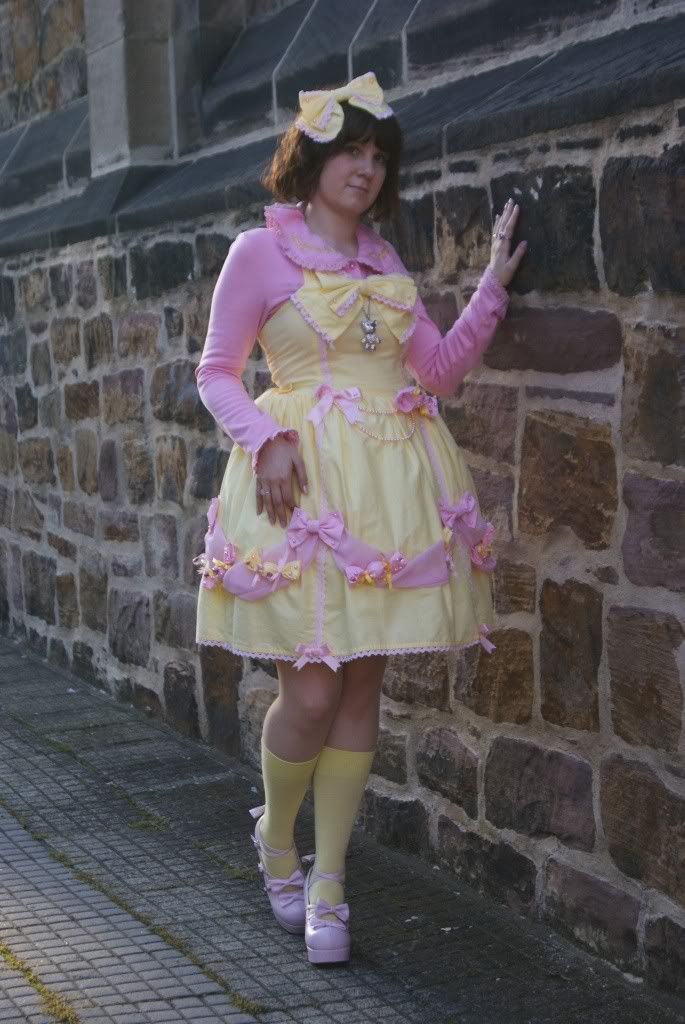 Style:

Sweet Lolita


Why I like it:

OK so maybe I am a bit biased. When I saw this outfit I immediately knew I wanted to talk about it! Pink x Yellow is one of my favorite color combos in lolita! :D Yellow in general is a color that isn't often worn, at least outside of the AP realm. I forget if her dress is AP or handmade or offbrand....but it doesn't matter! I love the plainness of it. There's no busy-ass print on the dress, it's just all beautifully solid colors. :D It's like a lovely layer cake of yellow and pink, yellow and pink.... yellow headbow, pink blouse, yellow jsk with pink accents, yellow socks, pink shoes! You could even do a variation of this with pink socks and yellow tea party shoes. :D The silver teddy bear necklace stands out just enough to create a nice accent touch and not be overwelming to the rest of the coord. I'd love to wear this outfit to a carnival or theme park. :D





camelie_fiolere






Style:

Classic Lolita


Why I like it:

Simple yet cute and elegant classic lolita. The color of the dress is such a beautiful burgundy! There is no other burgundy in the outfit but that's OK because it only makes the dress stand out more as a focal point. Her bag is whimsical yet appropriate for the rest of the coord. It certainly makes things less serious but still maintains the elegance of classic lolita. Lace tights are elegant but not super busy, and make the blouse flow with the rest of the outfit since there is white surrounding the burgundy. Her accessories and shoes are simple along with a every so slightly curled hairstyle. This keeps it from being too extreme. I'd love to wear this outfit out on a date. :x





_lovegood







Style:

Casual Sweet Lolita


Why I like it:

I just love the sandwiching of red and black in this coordinate! The bright red bustier makes a statement but it is a solid color so it doesn't distract too much from the busy print on her skirt. The red boots on the bottom make the redness of the bustier balance out. She chose plain tights which allows the print to do the talking! The only thing I would love to see as an addition to this coordinate is maybe a simple silver or gold necklace with a cute motif like perhaps cherries since that is the motif on her skirt, or hell, even a RED cherry necklace short enough so that it's against the black of her blouse. :D I'd love to wear this outfit to an apple orchard in the fall for picking apples! (Assuming the boots had a low heel!) xD


Well that's all for now, folks! I really hope you enjoyed this installment of Lolita Spotlight! If you have any suggestions or tips for me or if you want your photo removed or something, just leave remarks in the comments below! :) If this seems like a good idea, I will try to do it every Friday, homework and such permitting. :D

Hope you all enjoy your Fridays! :D And have a good weekend!
xoxo

PS: Next week expect Halloween costume updates and LOTS of make-up haul posting! :D