Don't worry...I'm alive and still going to have my giveaway but it's being put on hold for the time being. (I just realized it's been exactly a month since my last entry! Baw!)
I've been really busy lately with school mostly. I am presenting my portion of our Senior Design project tomorrow morning (bright and early, ugh) for some big-wigs at various companies. Most of these guys are in the aviation industry, not the space industry, so I can't say how they will give us feedback but I am sure it will be a great learning experience either way!
What has been going on otherwise? Well, I bought a bunch of stuff, lol...mostly due to my Birthday/Christmas coming up. A got a ton of stuff at LUSH too because, well, I love their stuff and I love working there. Sometimes during training meetings we play games like Lush Jeopardy and we can win prizes of products. It's really fun. ;3
I guess I'll just say that things will be on hold for a little bit now on my blog until final exams are over. If you want to see some of my recent "gets" click the jump below and I'll probably be hotlinking a ton...blah...sorry! It's late...I'm tired....etc. etc. hehe.
I've also been
yelping
a ton lately to relieve stress. And my official "birthday dinner" is tomorrow night. I had to put it on hold from last week because I had two exams and a project due. And soon I will have a take home exam, another project due, and some papers due too. No rest for the weary! I can't wait till school is over. Oh and I think I may take up knitting again now that the weather is cold. Knitting is like a cold weather activity for me. And baking. My mom bought me a KitchenAid mixer for my birthday and I am in love with how efficient it is compared to my ghetto old hand mixer, hehe. My dad's gift to me for my birthday is a brand new Canon Rebel Camera and it's SO fucking sexy. I am excited. xD



Stuff I got recently:




Paper Lanterns Dress from Modcloth.
It's been on my wishlist for a while now!




Spike Lita shoes by Jeffrey Campbell from Solestruck.com. I still want the Cosmic Litas but it's hard to find either style in my size! >_<;; I got a restock notification on this one today and immediately pounced on it but I don't even know if they still have it in stock or not. Fingers crossed!



Snagged this cute dress (in all black) from boohoo.com, one of my favorite British fashion sites. Kinda regretting all black now because I already own a ton of all black dresses and plus the white x black or red x black reminded me more of videogame character outfits...hehe. But I know deep down I will be able to coordinate all black with more of my items, like my new black shoes hehe.



Also got this cute hat to match.
Kind of reminds me of Maetel from Galaxy Express 999....doesn't it?!


I ended up getting these Just Bitten from the Buckle too. (I figured I'd never get the Spikey Litas...they're so hard to get now!) And my co-workers at LUSH both own these and they wear them day in and day out at work. So comfy!



This dress from the TaoBao Shop called Artka.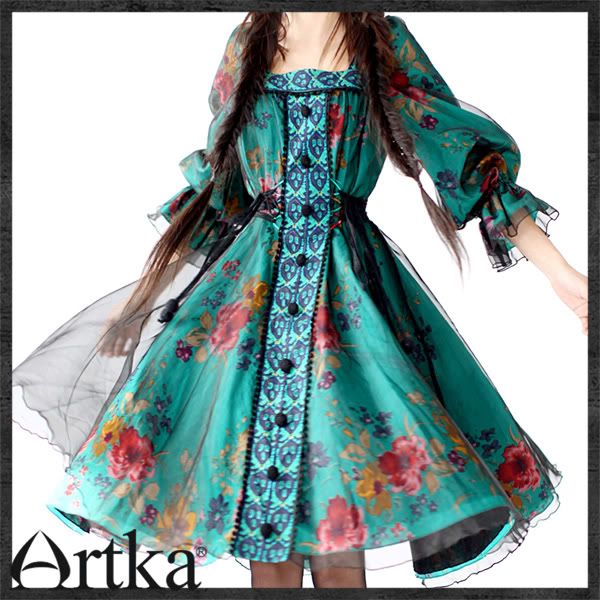 As well as this one! I was SO mad they were sold out of this red dress and this blue one. WHY ME?! D:



Kat Von D Candelabra Palette from Sephora. Gorgeous. Just simply amazing and lovely and just wow! I can't say enough good things about it. I want to do swatches too, muwhaha.



Kat Von D Painted and Foiled Love Lipstick Set also from Sephora. I got the lipstick set last year and decided it was probably one of my best and most used make up purchases of 2010. So I had to get the second set this year but I was SO disappointed with their packaging this year. Last year's was a cute little book and this years is sooo boring. D: Also I already owned 3/6 colors in it which made me feel dumb for buying it but I use these so much that I felt like it was worth it instead of buying full sized lip sticks....

I really wanna try Illamasqua's lipsticks...(speaking of lipsticks)...but they're only available online since my local shop doesn't carry this line. I've had my eye on Sonnet for a while but never purchased it...hmmm. Any thoughts?