For those of you who don't know, Lime Crime Make-up is a company notorious for a few things: selling obscenely bright cosmetics, and shady business practices. Despite the shadiness and the rumors of their re-packaging, I buckled down and bought some of
their lipsticks
. Why? I LOVE the colors they offer, and of course, the amazing purple unicorn packaging. >D Sparkly purple unicorns? YES PLEEEASE!
So yeah.
(click the jump to read more!)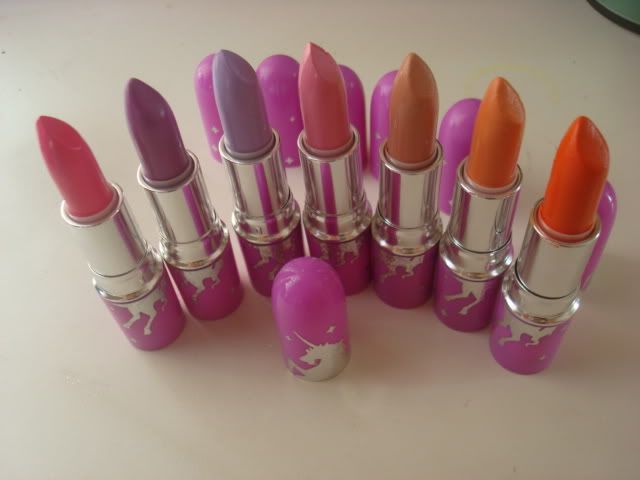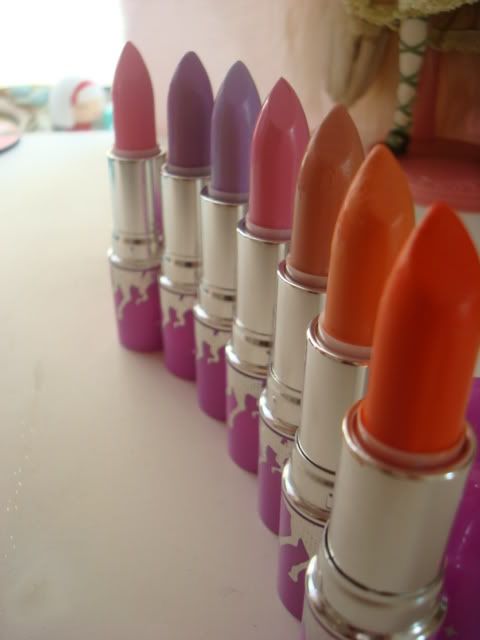 That aside. I have 7 lipsticks:

- My Beautiful Rocket (orange)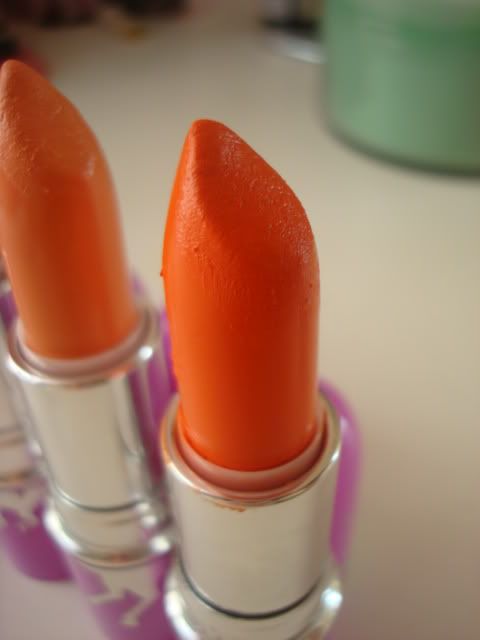 - Cosmopop ( pastel/creamy orange)
(some how forgot to take a photo up close of this one...sorry guys! Will add it later!) :x

- Coquette (pinky nude color, new)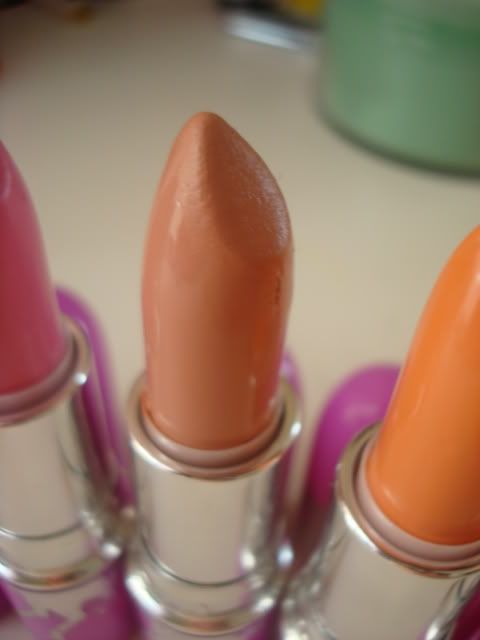 - Great Pink Planet (pastel pink)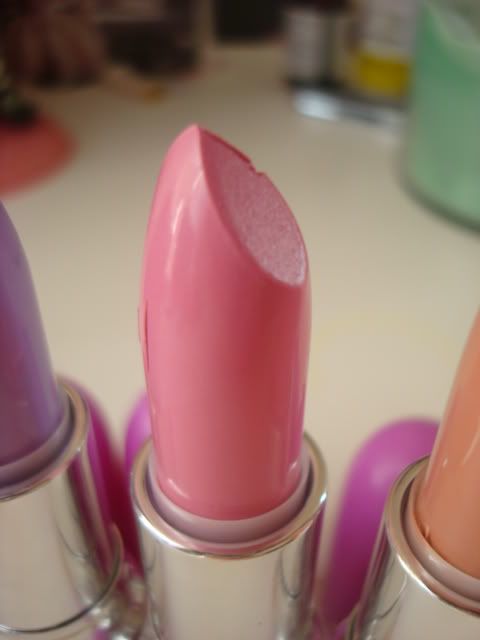 - D'Lilac (pastel blueish purple)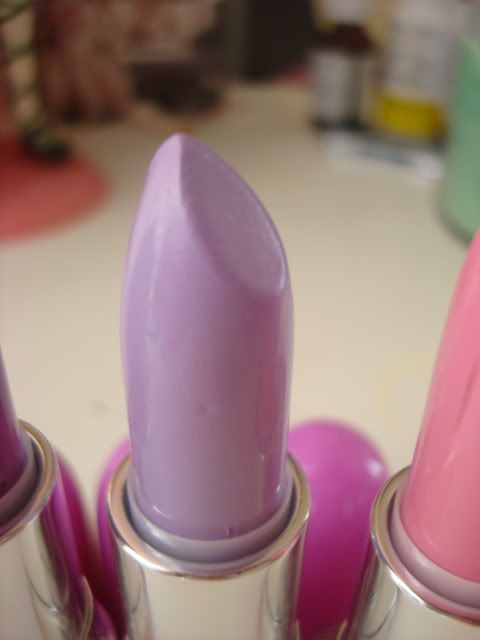 - Airborne Unicorn (more of a reddish/pinkish purple)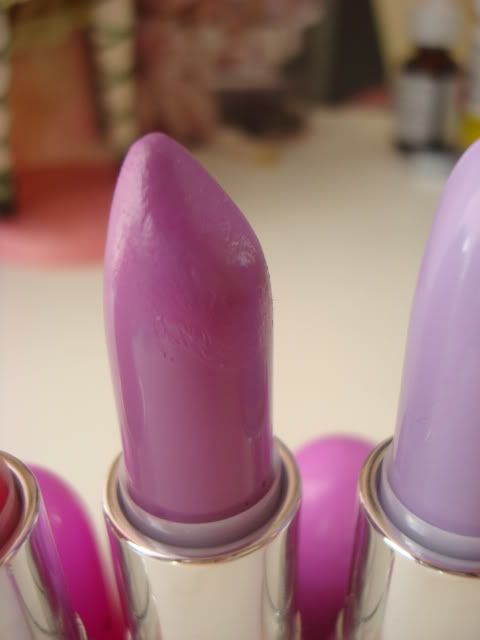 and

- Countessa Fluorescent (Barbie doll pink!)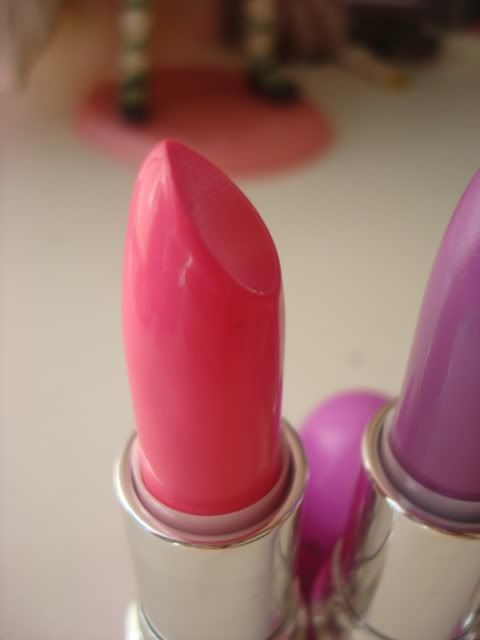 Countessa, worn:


(I am wearing this over exfoliated lips (used LUSH sweet lips scrub), Burt's Bees Honey Balm base, and OVER my lipstick I am wearing Rimmel Clear Gloss!!





SWATCHES!


L to R: Countessa Fluorescent, Airborne Unicorn, D'Lilac, Great Pink Planet, Coquette, Cosmopop, My Beautiful Rocket

THE GOOD:
- Verrry pigmented. almost annoyingly so. :x
- CUTE packaging, good for putting in purse. Loved the boxes they came in too.
- Unusual colors that you can't really find anywhere else!
- Was able to Google for coupon codes and found one (fb10) that got me 10% off every single item I bought, so basically free shipping!
- Easy to use site, easy to pay, not complicated at all, etc.!!
- I was pissed that they accidentally shipped to the wrong address, so they reimbursed the cost it took for my dad to ship the lipsticks from my other home to my current address! Yay! The shipping was only $3.00 but they didn't overlook it as trivial and reimbursed me. I was honestly more annoyed about the wait time. But anyway!


THE BAD:
- So pigmented that they STAIN your lips when you wipe it off. You need to use makeup remover to get it off all the way and even then...
- Kinda "greasy"...
- Some formulas are better than others, for some reason. Not sure if this has to do with a product being vegan or not...??
- L.C. is very VERY bad at setting their lipsticks properly in molds. My lipsticks arrived with random scuffs and "cuts" in them. Also can tell that they're not properly fixed on their bases. See photos below of My Beautiful Rocket orange lipstick. I bought it (at Modcloth.com, not L.C.) about a year before I bought all of the other colors in this post, and it's already freaking broken! :( And I only used it like once every two months at the most.
- They shipped one of my orders to my billing address by accident. u___u;


"Mess Up" photos:



My poor "My Beautiful Rocket" lipstick after a year of owning it...it had already broken a bit from its base!! >(

Weird "cuts" on my "Great Pink Planet" lipstick. It came out of the box like this. Wtf?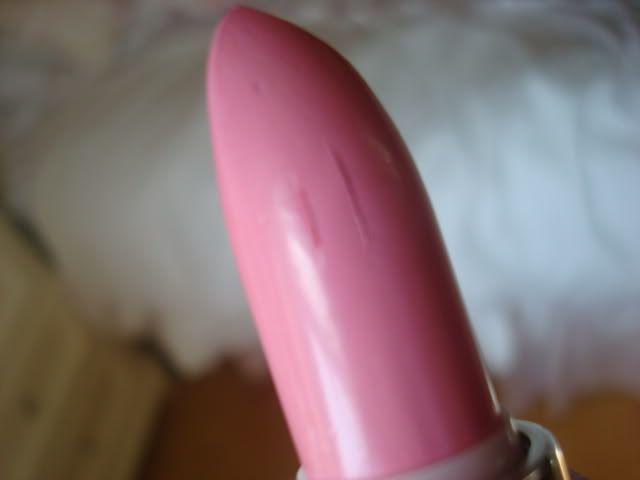 VIDEO REVIEW!