As the outside air temp has been dropping (and oddly, rising) I've been drooling over some fall clothing. Leggings, colorful tights, fur...
I know snakeskin is hella on-trend right now but I really just hate the way it looks. It kind of makes me think of "tacky" and "cheap" stuff from the '70s or '80s some other period of awkward snakeskin-induced fashion. >_>;; Or just over the top Western. In a bad way, lol. As in not in the cutesie Liz Lisa way I adore. But I am sure Liz Lisa could somehow make pink snake skin look cute hahaha. xD
I totally bought this whole outfit:
And by whole outfit I mean the hat and dress, hehe. It reminds me of something from the '70s and this time, in a good way. :3 I think I accidentally bought the brown hat instead of the grey one though which pissed me off a bit. I wish boohoo.com would just link to all of the items a model is wearing so you can buy them all or some individually, ya know?
Click below for more...

I really love NASTY GAL's styling:




But I really hate their name. Nasty Gal? Seriously? That just sounds...dirty...or mean...I don't know! I don't really get it. Maybe it's some kind of inside joke with the owner? LOL. I've only ever bought one item from them and it kind of fell apart after wearing it for a little bit (lace top) but I still love it and I will probably repair it. I love their fall stylish especially. They were the source of my learning about JC shoes.

It also kinda bugs me that I feel like I can't pull off a lot of their looks because I am not stick thin.... ugh. But I'll save another post for that rant, lol!!

Annnnd...
I've been stalking Grimoire's blog again by the way. Totally inspired by these lovely nails:




I've got the magnetic nail polish from Sephora by Nails Inc, btw.

And also with the '70s theme I've got going on for this post...from the Grimoire blog, this gem:



LOVE! <3 Sooo gorgeous. Mysterious...that's what I love about dolly kei style. With a hint of RPG!

More from Grimoire:



So lovely!




And lastly...

This scarf/shawl reminded me SO much of Amir's clothing from that manga called Bride's Story!! :)



Silk road much? I love it! I wanna do an Amir inspired coord. :)

Amir: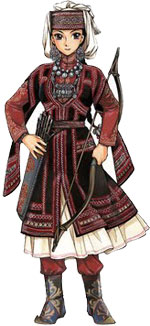 I just love her outfit and I want to cosplay her one day too! :)