Innocent World Pullip "Tiphona"...my first ever Pullip doll who I named Evangeline. :)
I'm sure some of you bloggers out there--lolita, gyaru, dolly kei, mori girl, visual kei--or just anyone really, has a penchant for cute things...like DOLLS! :D
I've always wanted a Volks BJD but alas...sooo expensive. ;___; I remember when I lived in Sapporo...I'd walk to the Volks shop to browse the cheaper Obitsu doll bodies and accessories and walk past the amazingly gorgeous, life-like ball jointed dolls and swoon. But $500+ for a doll? No matter how lovely they looked to me, I just could not bring myself to purchase one. I wanted to spend my $ on lolita because I always felt that a doll would just sit on my shelf ...I'm not really into photography (as you might have guessed from my crappy self-pics on this blog!) so I wouldn't even really take that many photos of it...although the doll...he or she...! would be a great photo subject. :3 hehe.
If I ever do get a BJD it will probably be from this site:
Doll in Mind
I love their dolls! :D
Tell me, readers...do you have any dolls? If so, what kinds? What are their names? How do you like to play with them (or not)? Or do you find dolls creepy? I think they're really lovely and I don't see how anyone could find them creepy but it's OK if you do!! :P Also I think lolita x dolls is such a good idea...I feel like they go hand in hand but that's just me. I am not one of those people who thinks all dolls have a soul or whatever, haha, but I won't judge you if you do!
Click below to see my Pullip Wishlist, and the sweet little girl I just ordered! :3


Here is a picture of me and my Pullip Tiphona who I named Evangeline (elegant name!) together in the forest:




So cute! I love how she is wearing the same dress as me (Pompadour by Innocent World!) It's my dream dress by that brand and as soon as I saw a Pullip Doll wearing it, I just had to get the doll to match with me. I got the wig for that matching coordinate too. I am crazy, I know, haha, but at least it was cheap on eBay!

Here are some Pullips on my wishlist. I love Pullips because they're cute without looking too creepy. They look devious/whimsical almost and I love how you can customize their bodies, clothing, hair, and change the eyes positioning. :D They're also wayyy cheaper than a full BJD with clothing, shoes, and face-up. And I am way less paranoid about breaking one because they're not $500 each. @___@;;

Anyway!



Pullip Porte Henri. She is so lovely. I can't get over how pretty her face and outfit are. :3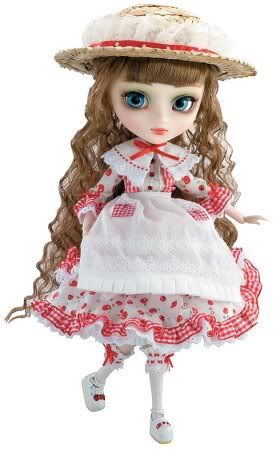 Pullip Dita. A cute lolita-esque looking Pullip. It looks like she's wearing a perfect Country Lolita type of outfit. :3 So sweet!!




Pullip Cinciallegra. She is sooooo sweet (especially her face-up) and the wig and dress really complete the look. Reminds me of mori girl a bit mixed with Cinderella (before she gets her fancy princess dress, of course!) Also reminds me of dolly kei or something you'd find on a shelf at the Grimoire shop in Japan. ;3



Pullip Clarity....the only Pullip on here who doesn't look like a lolita. xD I love her so much though and I almost bought her today but I got Romantic Alice instead. I think I will need to get her soon because she is so classy and elegant, like a retro starlet. Kind of vintage but so sweet looking. Reminds me of Audrey Hepburn somehow despite the hair color being different. :3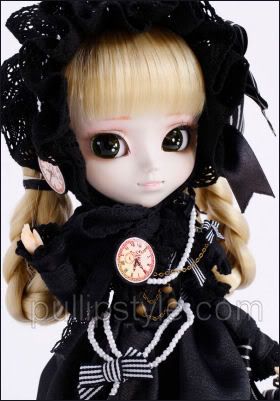 Pullip Nella. She is a collaboration with Alice and the Pirates. I want to preorder her! She won't be in till December though. :( She comes with many cute accessories, I love her face-up, and I especially love the braids in her hair!! So lovely and sweet despite her gothic outfit. :) There's a matching boy Pullip to go with her too.

And second to last.....



J-Doll Loosterweg Noord. J-Dolls aren't Pullips, but I wanted to include her because she took my breath away! I am hesitant to pay her cost because I am not sure about J-Dolls...does anyone own one? How are they? Good quality? She would look so lovely next to my Tiphona, for sure. :3 *swoon!* I think J-Dolls are supposed to be wearing clothing inspired by around the world trends. :3 And they are named after streets.


And finally.....



......Romantic Alice! I just bought her today. I cannot wait to get her in the mail. She is so sweet and will be a good friend to my Pullip Tiphona aka Eva. :)
I want to give my new doll a name! Any suggestions? Or should I just be uncreative and stick with "Alice"? It's hard to rename a doll with a character name already! :3 Especially when she looks just like Alice!! :D

Maybe I should have a naming contest? If I like your name, you win a prize! Haha! I dunno! :)