OK so this was a long time coming and I cannot apologize enough that I have promised some people that I would review Artka but it fell on the back burner. I've still been really busy even though I am out of college now, with my job! >__<;;
So yes. ARTKA. The glorious online shop that many have drooled over but few have actually ordered from. It's on the Chinese shopping website called TaoBao.com which is sort of like a gigantic online mall/eBay for China. In order to place orders on this website you need a Chinese bank account to do the money transfer, and also some way of communicating. Google Translate isn't really enough. You need someone who lives in China who can order for you.
Personally, my boyfriend has a connection over there, so that is how I ordered. I e-mailed her and asked her if she could get certain items for me. I paid her with Paypal and she shipped me the stuff. I know the prices seem cheap in USD but the shipping is killer! It's around $25 ~ $40 depending on the weight of your package for EMS. So my 2-3 dresses ended up costing over $100! Still not a bad deal considering the quality and uniqueness of everything.
Anyway. Click the Jump below to read more!


I can't remember the exact dates I ordered and paid for stuff and because I have a middle(wo)man, it's kind of hard to give an accurate representation of things since she was busy with other stuff and had to wait a little while to get my stuff mailed to me. Plus we were still working out payments, so I can't give timeframes. But expect at least a couple of weeks to get your stuff! Especially if you are using a shopping service like TaoBaospree.com but they have charts on there to guide you for reference in how long it will take to get your stuff so just refer to those or e-mail them about it.

Price wise, the dresses I bought were roughly $35 to $45 each.

Here are the stock photos of the ones I own:




My less-than-flattering photo (sorry, night time here!) It's actually navy blue, not black, hehe.



Here is a photo of me wearing this dress from a while ago:
Clicky.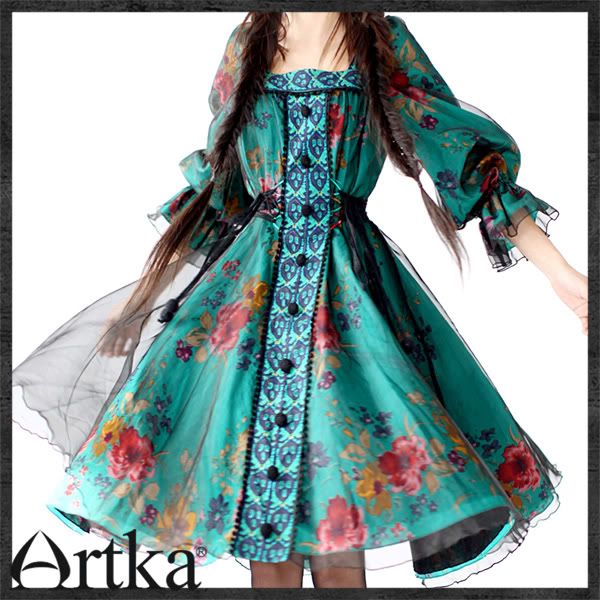 My photo: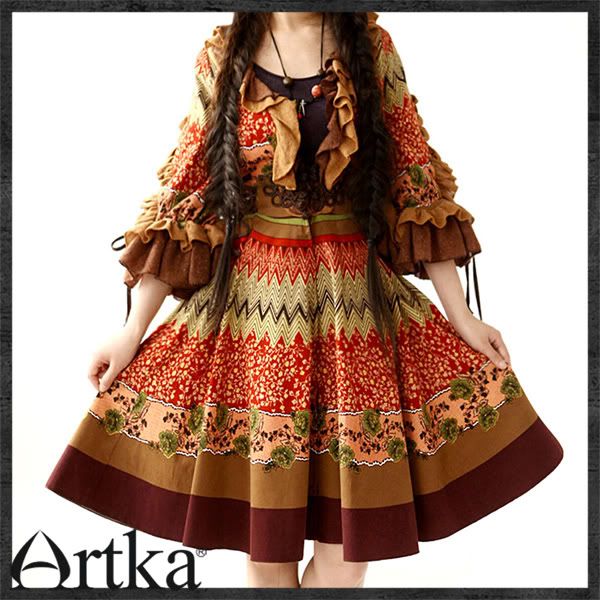 Chandelier Skirt. I love this thing. It has a huge pocket and the top black part zips off and can be worn as a separate belt!


This is so simple and yet lovely.


It looks better worn too, curse my terrible photography. X___x;

.................


Quality wise, Artka makes VERY nice quality stuff. Seriously. Nothing about their clothing is cheap to me! It's all made with loving care. They claim each garment is handmade but I think there is some degree of automation to it. ;)


Also you may have noticed they have an Artfire.com shop. DO NOT. I mean, DO NOT UNDER ANY CIRCUMSTANCES try to place an order with their Artfire site. First of all, the prices are like 75% more expensive on there than on Taobao! It's so weird. And I tried to place an order once and they basically never sent my stuff. So after about a month or so of waiting, I filed a Paypal claim. Luckily I got all my money back, but man, was it weird. They sent me only one confirmation e-mail saying they would mail my items soon, but I never got anything or heard anything back from them again even when I emailed them repeatedly and eventually threatened to do a claim! Yikes. Very scary.

If you want to order on Taobao use a shopping service like Taobaospree.com. It's safe and you won't have to worry about dealing with foreign sellers and attempting to use google translate. ;)

If anyone has any questions please feel free to ask away! :D

I would love to order from Artka in the future, but the shipping is heavy on the wallet, for sure.