So yeah...HAIR CHALK. Such a cool concept. I have been wanting pink hair lately ever since my friend, Yuka, dyed hers pink!! I love the way it looks...I USED to have dyed pink hair but now that I am out of college and work in the "real world" I can't dye it! :( I thought about dying it anyway and wearing a wig to work every day but I can't imagine wearing a wig for an 8 hour work day plus I spend lots of time in a machine shop so it might get dirty...ew! What to do?! So that's why hair chalk sounds like a good idea to me...well, unless you're (a.) wearing light clothing, or (b.) going out in the rain without an umbrella.... heh, yeah. Read below for more info!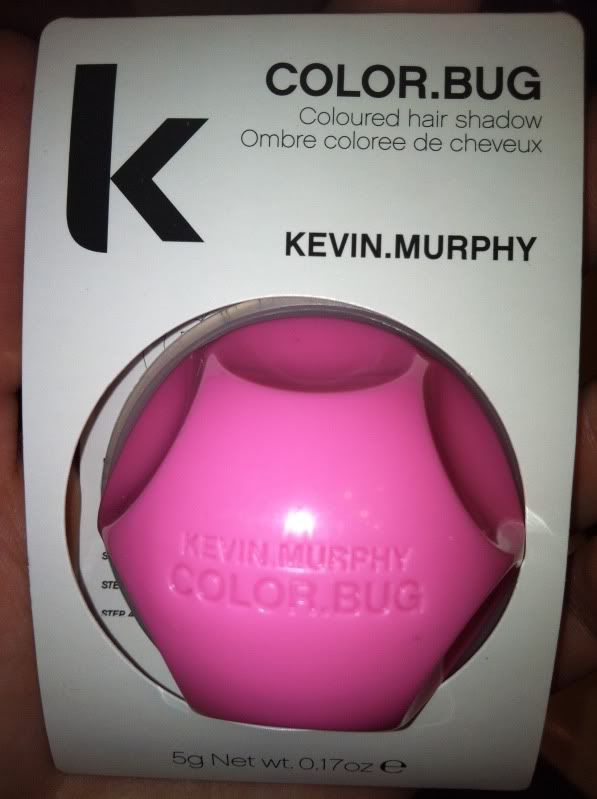 I only tried pink so far but now I want to try orange and purple as well. I got mine from abhair.com, and I think they have a Coupon Code if you want 20% off your first order, it's first20, I think.
EDIT: NVM, that code doesn't work for me....damn. And I even made a separate account too, lol.
Here's me wearing the color bug on the bottom part of my hair. I curled it a little after putting on the color bug because I was afraid of messing up my curls by putting on the chalk... but I later learned from the video below that you are SUPPOSED to style your hair BEFORE you apply color bug...oops! Also I brushed my hair after applying the stuff and I didn't use enough product before applying, so I had TONS of fallout. It was ....very messy. I had to scrub my sink free of pink, and my brush was coated in pink powder! >_<;; I didn't include any pics of me trying to apply it because it was so messy!!
I wish I had watched this video before I started applying this stuff, ha!
DEFINITELY helps to watch the video. I didn't apply very much product. But he makes sense when he talks about the similarities between this and applying makeup...primer, sealer....etc. The product was a little difficult to apply and there was tons of fallout. It even stained my white dress a little (yes I know, but it's an old dress that I was okay with messing up, haha) but I suspect it will wash out considering it's water soluble and all.
Here's another video of color bug being applied:
http://www.youtube.com/watch?v=c8a1Bhq6Q-Y&feature=related
It explains a little more than the official vid in my opinion.
But now my next question is...wtf do you when it rains? D: It would suck if you were wearing a light colored dress or top and then you put in the color bug product and then you went out into the rain and it washed out all your hair color plus stained your garment... hmmm. I think it still has some kinks to work out. Or maybe just apply it when it's not going to rain?? Hmmm ...